The most requested performance modification for the G8x M3/M4 now available!
VRSF 3″ HIGH FLOW STAINLESS STEEL DOWNPIPES
For your 2020+ BMW M3, M4 with the S58 Engine
We are proud to introduce our VRSF 3″ Race Downpipes for the S58 G80/G82/G83 M3, M4. These 3″ downpipes are the best bang for the buck mod available for your S58, with gains from 27hp & 33tq when tuned. By eliminating the restrictive catalytic converters in the factory downpipes, back pressure is reduced significantly which results in faster spool, an increase in power & a more aggressive exhaust note.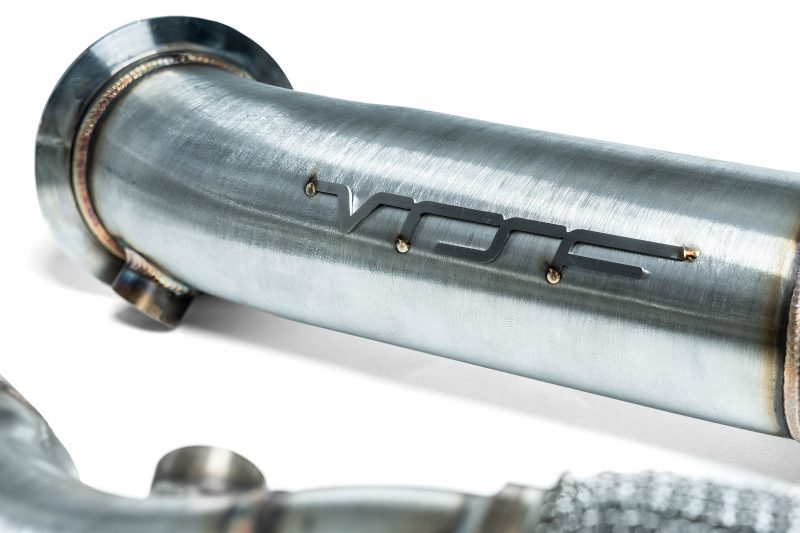 Rather than necking down closer to the turbos like most of our competitors, our 3″ race downpipe feature a full 3″ design up to the last couple of inches of the pipe which allows an increase of flow. Our 3″ downpipes are hand crafted from SS304 stainless steel and include a lifetime warranty & our "No Hassle" satisfaction guarantee which includes fitment & defects.
FEATURES:
Adds 22-27 HP to the wheels & 28-33 TQ to the wheels.
Hand made from mandrel bent, tig welded 3″ 304 grade stainless steel.
Smooth radius bends to decrease turbulence and increase flow.
High quality grade 12 mounting hardware included.
VRSF Lifetime Warranty against defects and fitment.
This item fits the following BMWs:
2020 – 2023 G80 BMW M3 RWD & AWD including Competition
2020 – 2023 G82/G83 BMW M4 M3 RWD & AWD including Competition